About Crate n Pack Solutions
Delivering Durable Cases, Crates, & Plywood Boxes Australia-Wide
Crate n Pack Solutions is a family-owned business located across two locations in Southeast Melbourne. Crate N Pack has established a strong reputation in the timber packaging industry. With a focus on on0site packing and manufacturing high quality wooden crates, cases, plywood boxes and pallets, we have become a trusted partner for businesses in various sectors across Melbourne, throughout Australia and across the world.
Under the leadership of Managing Director Chris, who possesses extensive knowledge and experience in the timber packaging industry, Crate n Pack Solutions has grown significantly over the years.
Our expertise in providing customised timber packaging solutions, has allowed us to offer exclusive in-house and on-site specialised packing solutions for the safe and secure transportation of machinery and equipment. 
In order to meet the growing demand for products & services, Crate n Pack Solutions recently expanded operations and now operate from two manufacturing facilities. This expansion has not only increased production capabilities but has also allowed Crate N Pack to serve a wider range of clients across different regions.
What sets Crate n Pack Solutions apart is our commitment to providing exceptional customer service. We believe in building long-term relationships with clients and understanding their unique packaging requirements. By working closely with customers, we are able to create tailored packaging solutions that meet their specific needs of individual clients. 
Crate n Pack Solutions is a reputable and customer-focused packaging solutions provider. With expertise in machine relocation, commitment to quality, and dedication to customer satisfaction, they are well-positioned to meet the diverse packaging needs of businesses across various industries.
Thank you for considering Crate n Pack Solutions. We look forward to working with you!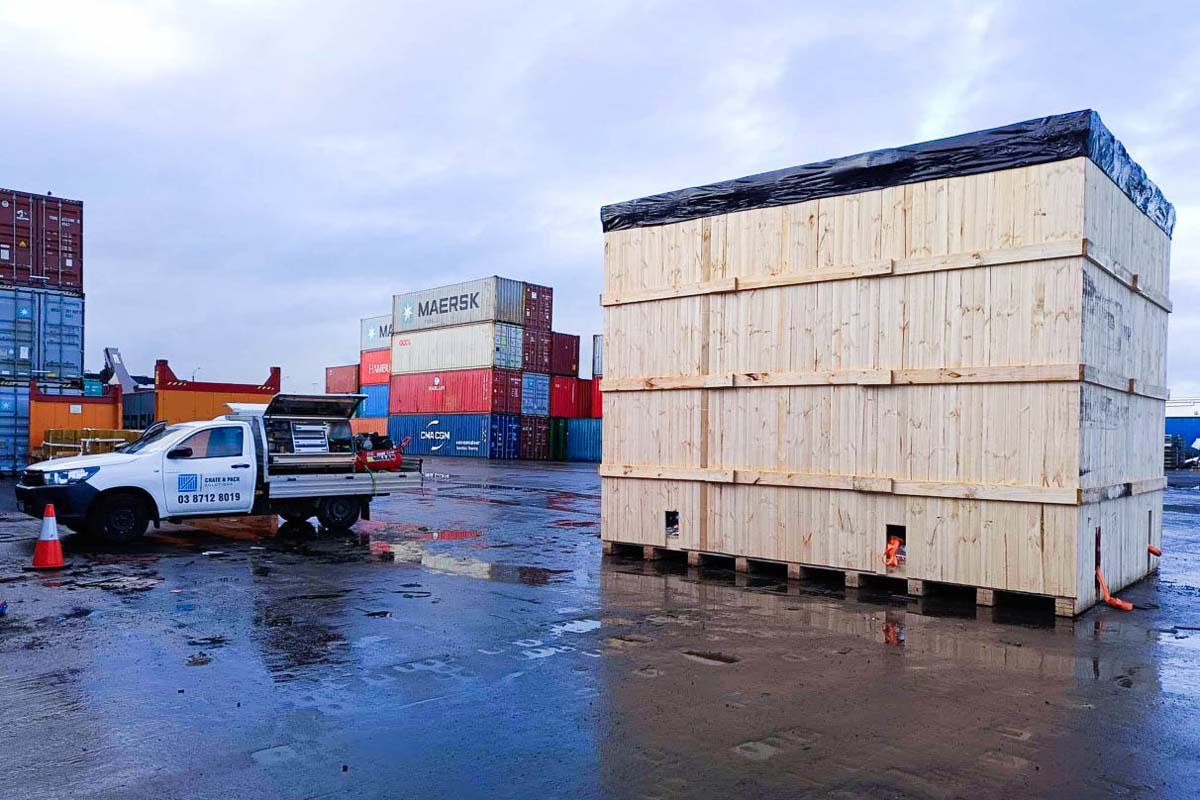 Shipping and Logistics Packaging Needs.
With our expertise in packaging and secure transportation, we ensure that your valuable cargo reaches its destination safely and on time. Discover how our innovative solutions and customer-centric approach can simplify your logistics and give you peace of mind. Join us in redefining excellence in the world of shipping and packaging.
On-site Packing Australia Wide
Worldwide Freighting Service
Address:     36 Nicholas Drive, Dandenong South
Phone:        (03) 8759 1696
Email:         sales@cratenpacksolutions.com
24HR Emergency Service - Contact sales@cratenpacksolutions.com
Monday                                                                  7am - 4pm
Tuesday                                                                  7am - 4pm
Wednesday                                                            7am - 4pm
Thursday                                                                 7am - 4pm
Friday                                                                      7am - 12pm
Saturday                                                                Closed
Sunday                                                                  Closed
Closed All Public Holidays 
Fill in the form below or call us on (03) 8759 1696